I have so much to share with everyone. I may condense it a bit because I'm ill...which sucks, for lack of a better word.
This is about what I look like. Just imagine the girl in the picture with red hair minus the ugly sweater, and pretend she's laying in bed, because she's too sick to get up and get on the couch. Yeah, that's bad, but it's true.
This is what I've been doing for the last two days, except I do not have a plastic bubble. I think I may have infected my husband, but he's not exhibiting the same symptoms as I am, plus, I went from zero to sick in 60 seconds. His symptoms are coming on gradually. I have huge plans for this week, but now I'm stuck in bed, doing the above activities. I was going to work out. I was going to start unpacking and setting up things at the new house. I was going to shop for some things we need for our house, but instead, I'm here, stuck in bed. *sighs*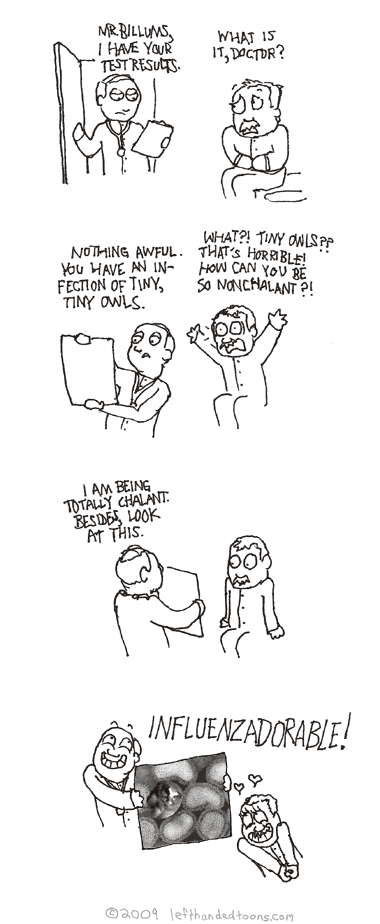 "New house," you ask. Yes, new house. It's actually a cottage. Things kind of fell into place. It's much cheaper than our apartment was, and it's so cozy! There are inspirational quotes on the walls in the living room and bedroom. As soon as I saw them, I fell in love. This is the perfect place for a writer to live! Unfortunately, I haven't really been able to write much since we moved. The move took three days. It would have taken two, but the U-Haul broke down. Thankfully, U-Haul was nice enough not to charge for the extra day. That was a blessing all by itself.
Our landlady is wonderful. She is 90 years old and as sharp as a tack. Doug and I really like her. Her son is a writer, and as soon as I told her I was working on a book series, she pulled out his book. Her son is a child psychologist and quite an excellent writer. Just what little bit I read had me intrigued. We hit it off instantly.
I don't really miss the other apartment. Right before we moved, neighbors moved downstairs, and they played music so loud that my cats were afraid to sit in the floor. One night, their music was so loud that Doug called the police. We could hear the lyrics to the songs! There were people going in and out of there at all hours of the night. I figure they were doing or selling drugs. Whatever the case, I'm glad to be out of there. I think the things I miss about the apartment would be the dishwasher, the pink dogwood tree with its petals raining down when the wind blew, sitting on the balcony on those foggy fall mornings, and being close to our church. That's really it. Doug says we can plant a pink dogwood tree and eventually buy a dishwasher. We do have a huge yard, and the swing on the porch, and Doug can grill in the backyard, and our table is out there, and our bird feeder, and there's a window by the sink so I can watch the birds eat while I do dishes. This is just a place of peace all around. I've never been happier. I'm a bit agitated that I'm unable to get everything set up right now so I can truly enjoy it, but that's just the OCD talking.
I do have some pictures, but I will have to post them later. Maybe just a few...
JUST KIDDING! I actually found the series of pictures from two blogs on blogger, the owner of this cottage and her sister. You can check it out
here
. But I've got chicken noodle soup calling my name and I'm actually hungry, so I'm going to close for now.
Until later...